Money Does Grow On Trees!
Each summer when temperatures soar into the triple digits in metropolitan Bakersfield and the asphalt sizzles, residents retreat to the costly sanctuary of air conditioning. Before the advent of air conditioning, residents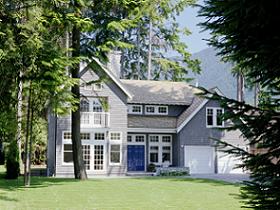 relied on trees for relief from the heat. They planted an estimated one million shade trees next to their homes and along sidewalks, creating stately canopies that dropped temperatures up to 20 degrees and added charm and elegance to their neighborhoods. This urban forest is worth an estimated $48 million annually in reduced energy costs and air quality improvements.
Today, however, a bizarre and disturbing practice known as tree topping is devaluing Bakersfield trees and neighborhoods at an alarming rate. An estimated 200,000 trees in the metropolitan area have been topped, blunt cut and aggressively pruned, leaving unsightly hat racks that litter the city landscape reducing benefits by $9.6 million annually.
Trees are nature's air conditioners producing a valuable annual crop of leaves. They offer an economical, long-term solution to soaring energy and cooling costs and a pollution solution to combat the primary negative perception of Bakersfield ? poor air quality.
A landscape rich in shade trees also provides the added benefit of improving the perception of Bakersfield as a beautiful, inviting and appealing locale.
Topping practices, which were developed to produce firewood and fruit, eliminate the shade benefits of trees by reducing overall leaf area resulting in warmer temperatures, degraded air quality and shortened lifespan.
There are approximately one million trees growing within the 408 square miles of metropolitan Bakersfield yielding an average shade canopy of less than ten percent. The Tree Foundation of Kern is committed to inspiring people to plant two million trees in Bakersfield's urban forest by 2020 and take better care of them, thereby increasing the average shade canopy to 30 percent by 2050.
To help meet this goal, the Tree Foundation of Kern has begun to tackle the destructive practice of tree topping.
Since 1994, the Tree Foundation of Kern has actively promoted the awareness of the urban forest and its benefits to Bakersfield. The organization's long-term strategic plan has been incorporated into Bakersfield's Vision 2020 plan and will result in a healthy, vibrant, sustainable urban forest, shift public perception of trees from nuisance to asset, improve and enforce tree ordinances and expand the local green industry to create 500 new and better paying jobs and improve quality of life in Bakersfield.
For a study released this year, "Improving Tree Care In Bakersfield: The Root Causes of Destructive Pruning Practices," the Tree Foundation surveyed more than 200 homeowners, renters, property managers and tree services. The study revealed four primary causes contributing to Bakersfield's annual assault on trees including a lack of leadership and poor public awareness of the benefits of trees and proper pruning techniques.
A lack of educated professionals and performance standards for tree services and workers is a primary cause of the destructive practice of tree topping. Tree care providers are not organized, there are no continuing education requirements and at present, no licensing or certification is required.
The problem of unskilled tree workers not only damages the perception and value of legitimate tree services but compounds the problem of poor consumer education and awareness of the benefits of trees and basic tree care. As consumers begin to appreciate the value of their trees more and understand proper pruning techniques, they will no longer tolerate the unsightly work of "Bakersfield's tree butchers."
Disconnection from nature and each other also lies at the bottom of the tree topping problem. Trees are seen as a nuisance, dropping leaves everywhere, creating liability problems, and taking up valuable time in maintenance and care. As public awareness improves and trees assume a valuable role in Bakersfield, the bleak landscape and scorching heat of the concrete jungle will give way to the cool, soothing green of an urban forest.
The Tree Foundation of Kern is taking a leadership role to create a healthy, sustainable urban forest for Bakersfield. Now that the root causes of improper pruning have been identified, the organization is moving forward to combat the problem. Recent actions include a series of "Proper Pruning Pays" workshops for the public and local tree services, the formation of an ad hoc tree advisory committee to city council, review of tree ordinances, revised landscape standards for new commercial developments and the hiring of an urban forester by the City of Bakersfield.
Additionally, the Tree Foundation of Kern has worked with Bakersfield College to create a Certified Tree Care Worker course curriculum that will provide trained workers for the area's emerging "green" industry. Creating and sustaining a healthy urban forest is expected to create 500 new and better paying jobs in a $100 million industry for the area by the year 2020.