The Tree Foundation of Kern will soon be announcing its next Citizen Forester training program starting in the fall of 2010. We will post the dates and times on our website. Residents interested in learning more about trees will have a chance to become "citizen foresters" during a series of free Saturday classes.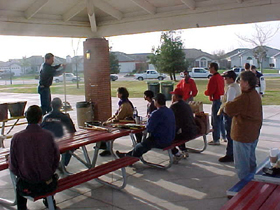 The program will teach participants planting techniques, basic tree care, species identification, and how to lead community planting and tree maintenance projects. The program is organized by the Tree Foundation of Kern.
Over 15 hours of hands-on learning will be offered in four Saturday classes. All classes begin at 9:00 am and end at about 12:30 pm. Locations vary and will be given at time of sign up. All materials and tools will be provided. If you are interested in getting more information about this very sucessful program, send us an email at treeinfo@urbanforest.org.
If you would like register for the citizen forester class, please print this page and send it to The Tree Foundation of Kern, P.O. Box 2871, Bakersfield, CA 93303. You may also call to register, 661-325-6650 or register by email. Please leave a daytime phone number if you leave a message. If you have any questions, feel free to call us at 661-325-6650 or e-mail at .treeinfo@urbanforest.org
Citizen Forester